Ten monthly wine tastings
For members, or by invitation only
Feb 27 – Univin & Spirits – Register
Mar 27 – Trajectory Beverages – Register
April 24 – Vegan wines and food – Register
This is a Virtual event with Food and Wine Kits for pickup in time for the Tasting. It's a little bit different but still a lot of fun!
On the last Thursday – changed to Friday while we're virtual – of every month from January to October, we have a wine tasting and food pairing event. We invite Ontario agents who have international wines, many of which are not available at the LCBO, as well as local wineries to introduce us to and showcase their wines. We start with a sparkling wine and an amuse-bouche, followed by a flight of white wines, then a flight of red wines. Each wine is paired with food that reflects the country of origin, flavour profile of the wine and/or a contrasting, often surprising aspect of the wine.
Each evening is unique, informative and provides an opportunity to taste wines and of course order them directly from the agent and/or winery. All 10 tastings are included in the annual membership fee. You must register for each tasting to reserve your spot.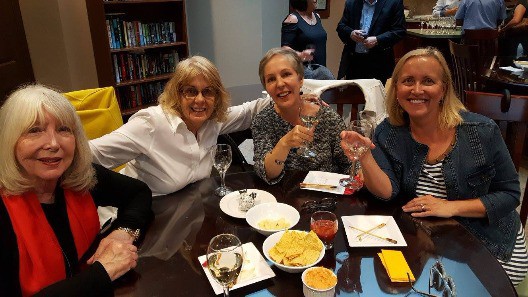 Barbecues
Virtual Winter BBQ – Sat. Dec 19, Members: $55 + wine cancelled.
Each year we have a summer BBQ at different locations throughout the city. Members have typically offered their beautiful homes, whether they be on the waterfront, a rooftop of a downtown condo or a large beautifully landscaped backyard. Our members are generous, the food plentiful, and wine, beer and cider tickets are included. It's an opportunity to talk to fellow members in a more informal outdoor setting but with the same high standard of food and wine provided.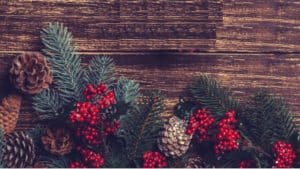 Virtual Christmas Dinner Members: $55 + wine
Every year in November we have a Gala Christmas Party catered by Chef Maggie of Indulgent Chef. We have celebrated European foods and wines, In 2018 it was Christmas Down Under with traditional Aussie foods and wines. Check out the Gallery for pictures of the event. Last year we celebrated in South American tradition. This year we will be celebrating virtually but still with an outstanding meal and your choice of selected wines.
Menu
Soup: Cauliflower with Saffron and Cinnamon
Salad: Pear and toasted walnut with cranberry vinaigrette
Main: Beef Osso Bucco with mashed potatoes or soft polenta
Dessert: Rhubarb, pomegranate and vanilla cobbler with homemade vanilla ice-cream
Members-only master class
January 29 – Members & Guests – Sparkling Master Class
Back by popular demand, Teresa, our Club Sommelier will take us through the different types of Sparkling wine including Champagne, Cava, Cremant, Prosecco and Ontario's Sparkling wines.
Once a year, we have our members-only master class. We've had a sparkling wine class and a Port wine class that included samples of white, ruby, tawny LBV and vintage ports. Members learned about the different styles of port wine including taste profiles, production methods and grapes.
Included were a variety of foods that showed the robustness of sparkling wine with food, and the following year, recipes developed by Canadian Chefs specifically for Taylor Fladgate's ports.
Special tastings and events
Jan 16 – Beat the January Blahs with a Virtual Dinner complete
Feb 13 – Valentines Day – Chocolate and Wine Pairing – Register
Mar 13 – Virtual Dinner from a local restaurant – Register
Aug 14 – Under the Tuscan Sun – Charity – Register
In addition to the regular monthly tasting, we periodically have special tastings of wine or spirits, theme evenings, promotional events and winemakers' dinners. We also receive invitations from our partners to industry events and special events. Many of these tastings and events have very limited seating. Check our website on a regular basis for upcoming special events.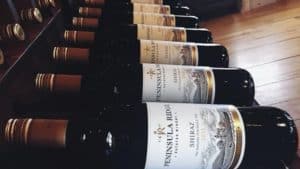 Wine wanderings
June 12-14 – Prince Edward County – Cancelled
Unfortunately, due to the current COVID crisis, the June wine wandering to PEC is cancelled. The wineries, hotels and restaurants are all closed at this time and they don't foresee anything opening sooner than June. All of the wineries we were going to visit are open for online business and deliveries. Please support and order from them.
Lighthall Vineyards – free delivery on cases only. They might deliver cheese too. Just need to ask. www.lighthallvineyards.com
Karlo Estates – free delivery on 4 or more bottles www.karloestates.com
Casa Dea Estates – free delivery on 6 or more bottles www.casadeaestates.com
Morandin Wines – free delivery on 6 or more bottles www.morandinwines.ca
Black Prince wine and vinegars – free delivery on 6 bottles or more. www.blackprincewinery.com
Sandbanks winery – Always free delivery on any 4 bottles or more. www.sandbankswinery.com